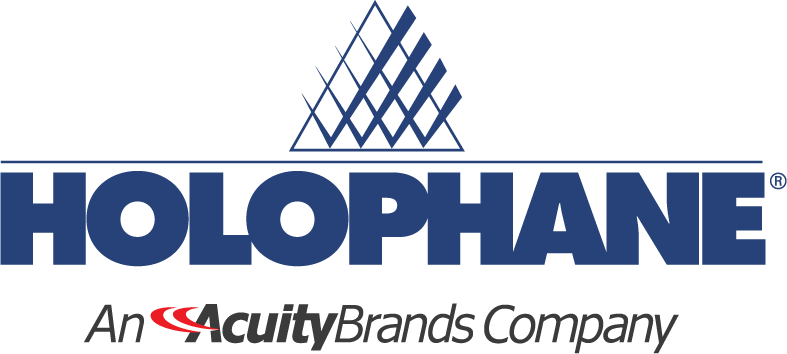 Holophane Industrial Lighting includes: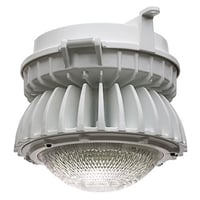 Petrolux® Wet Location High Bay
PLED2 High Bay
When it comes to light quality, light distribution, reduced glare and energy savings, the Petrolux® LED luminaire stands alone. It is the optimal solution where maintenance, safety and energy conservation are key concerns. Its rugged construction is designed for longevity. A dedicated heat sink, the precise number of fins, and the size and form of the light engine enable quick heat dissipation which extends the useful life of the luminaire. The Petrolux LED luminaire maximizes spacing, improves visibility and reduces the overall total cost of ownership for the life of the product.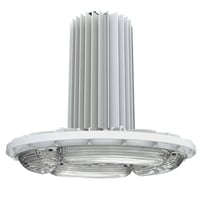 Phuzion™ LED Wet Location High Bay
PHZ High Bay
The Phuzion™ LED luminaire takes high-bay lighting to new levels of lumen output and temperature tolerance. Combining the latest in LED technology with the legendary illuminating dynamics of Holophane's prismatic borosilicate glass, the Phuzion LED high bay delivers unparalleled performance and reliability. Lumen packages range from 12,000 to 60,000 lumens in a single luminaire. Up to 50% energy savings over traditional light sources with ambient Range: -40°F (-40°C) to 158°F (70°C). They are IP64 Rated. Available in tandem (PHZT), remote (RPHZ), or crane mount (PHZC). Ideal for industrial facilities, heavy manufacturing, convention centers, sports arenas, and renovation/retrofit. Also available with embedded nLight AIR® and the IOTA ETS Emergency Control Device.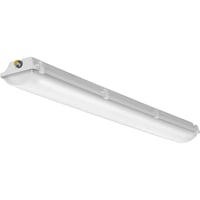 LED enclosed-and-gasketed general purpose luminaire
EMS LED Linear
Specially designed for wet, damp and cold storage locations, the vapor-tight EMS LED luminaire from Holophane® withstands rugged environments and is available in 2-foot (L24), 4-foot (L48), and 8-foot (L96) lengths. Quality Construction -A one-piece, seamless fiberglass housing won't corrode, rust, or crack, delivering years of reliable service and protection against the elements. A continuous, non-porous gasket keeps the fixture free from dust, dirt, and other unwanted contaminants. With its sleek appearance, low profile and numerous options, it is ideal for parking garages, industrial facilities, retail stores, garden centers, food service, and airports. The EMS LED is configurable to fit your budget and application with medium, wide, and parking garage distributions along with lumen packages ranging from 2,000 to 24,000 lumens and efficacy up to 170LPW. Additional options include nLight® wired and wireless controls, occupancy and daylight sensors, emergency battery backup, generator transfer and more. Listings include: IP65, IP66 & IP67 rated; NEMA 4X rated lens and housing; ambient temperatures rated for -31°F (-35°C) to 95°F (35°C) when the fixture is surface mounted or up to 122°F (50°C) when the fixture is suspended at least 6" from the ceiling.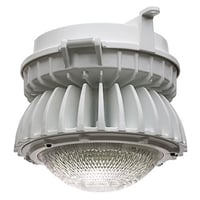 Vantage® LED Food Processing High Bay
VL High Bay
The Vantage LED luminaire exceeds rigorous demands of food-processing plants and related areas, thanks to its strategic sloped shape and ultra-sleek corrosion-resistant finish that repel water and provide nowhere for food, dirt or debris to hide. Choose either prismatic acrylic or polycarbonate lens which stand up to chemicals used in food-processing plants and similar applications. Meets stringent requirements IP66, IP67, IP69, and NSF Splash Zone 2. Over 250 configurations are DLC Standard or DLC Premium qualified products. Vantage is the optimal solution to meet code and qualify for possible rebates. Energy-saving control options for all applications including 0-10V dimming standard, NSF approved occupancy sensor and wireless control options for zones, and scheduling. Control a single fixture or entire space. Available with nLight® AIR and IOTA ETS Emergency Control Device.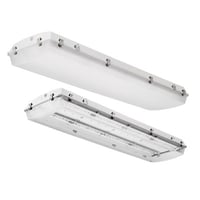 LED Food Processing & Cold Storage Linear Fixture
EMW LED Linear
The EMW LED is ideal for food and beverage processing areas, cold storage, natatoriums, garden centers, parking garages and more. EMW LED luminaires are built to withstand the rigors of food processing and cold storage environments while providing quality lighting options and accurate color rendering (up to 90 CRI) for more natural colors. Durable construction and integrated LED technology provide energy savings, reduce maintenance costs and extend the life of the luminaire. Integrated controls and emergency backup options give you the flexibility and control you need for demanding environments. The 5VA rated fiberglass housing features washdown design for easy cleanup. With lower wattage LEDs (75-225W) saves you up to 60% energy over traditional fluorescent. The EMW LED series is suitable for -40°F (-40°C) to 104°F (40°C) ambient environments and mounting heights up to 30-feet. Ratings include IP65, IP66 & IP67 rated, NSF Listed,NEMA 4X rated, 1500 PSI hose-down.