LSI Wraps & Surface Mounts
LSI Lighting

LSI wraps and surface mounts are perfect for a variety of commercial and industrial applications including: parking garages, retail establishments, storage facilities, and more.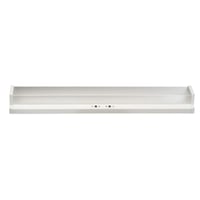 Industrial-Grade Stairwell Fixture
The SW-stairwell fixture offers best in class performance with industrial-grade durability. Designed and manufactured in the USA, this fixture is ideal for parking garages, retail establishments, and storage facilities. The integrated ultrasonic sensor optimizes energy savings while ensuring safety when the space is occupied.
The luminaire is available in 2ft and 4ft form factors with a light output up to 8,200 lumens up to 140 lumens per Watt efficacy. SW-series luminaires are designed with appropriate gasketing to keep out bugs and dust. Vandal-resistant hardware provides an additional layer of safety and security.
The standard lens is made out of polycarbonate material for class-leading IK07 impact resistance which ensures years of maintenance-free operation for the end user. The textured polycarbonate lens also offers low-glare illumination for high visual comfort. Optional battery backup provides standby lighting in the event of power loss per applicable NFPA codes.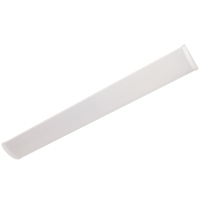 Advantage Field-Selectable Wrap
LED wraparounds offer an energy-efficient, long lasting alternative to traditional fluorescent wraparounds that are highly susceptible to failure under vibration. The Advantage Field-Selectable Wrap (AW) is the most affordable LED wraparound in its class. It offers three lumen outputs and three color temperatures, all in one package. Settings can be selected before, during or after installation with the flip of a switch.
The versatile AW can be mounted directly to a surface or using stem or chain and S-hook. AW also uses a diffuse, polycarbonate lens for impact resistance and durability. The smooth, diffuse lens also provides a uniform, blended appearance without pixellation or other striations compared to prismatic lenses.
AW is available with 0-10V (10 -100%) dimming as standard and is compatible with most commercial dimmers. AW offers an optional standalone microwave sensor for additional energy savings and building code compliance. Optional networked control options include an AirLink Blue fixture-integrated controller that communicates with external devices such as daylight harvesting or occupancy sensors to dim to present light levels on the LSI AirLink Blue App. Check out the ordering guide for additional options and mounting accessories. The energy-efficient AW is DLC listed and qualifies for state and utility rebate programs.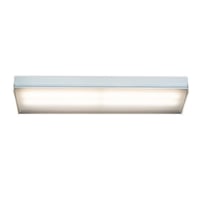 88-Series LED Wrap Retrofit Kit
The 88-series LED retrofit kit is a simple and smart upgrade for LSI's popular 88-series fluorescent fixtures. The retrofit kit offers multiple advantages including improved efficacy, vibration resistance as well as reduction in industrial waste by reusing the existing housing and hardware. With efficacies up to 153 lumens per Watt and a significantly longer lifetime compared to fluorescent lamps, the upgrade is a no brainer. Installation is as easy as disconnecting the existing ballast, removing the fluorescent lamps and installing the retrofit kit with the included high-transmission acrylic lens. The kit comes with a quick connector which makes wiring a breeze.
The 88-series retrofit kit comes in 2ft, 4ft and 8ft form factors and puts out more than 10,000 lumens in the high output (HO) version. The 88-series retrofit kit is ideal for schools, municipalities, hospitals and retail applications. An optional integral microwave motion sensor takes energy savings to the next level. 0-10V dimming is standard and allows output control between 5 – 100%.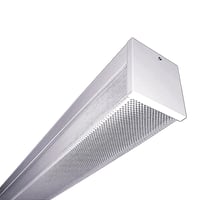 Wall/Ceiling Mount
The LED W44 designed for wall, ceiling or pendant mounting, is a versatile linear choice. The cross-section dimensions allow this efficient luminaire to fit into most architectural spaces conveniently and unobtrusively. The entire series is a singular cross-section, allowing for long row composition, and the acrylic diffuser incorporates a well-defined linear prism design.
With their exceptional long life, the LED light source makes the W44 virtually maintenance free. This product has a 5-year warranty.