Maxlite area lights include: M Series, Slim, High Efficiency, and post top spider mounts.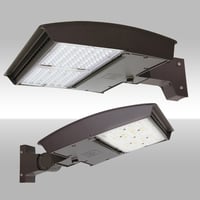 M Series
Area Light
The M Series product family provides a slim, clean design with tremendous versatility for outdoor lighting applications. A singular housing thrives as either an Area, Flood or Wall fixture depending on the optics and mounting selected. The standard product is CCT selectable, enabling the customer to choose from 3 color temperatures in a single product. It also includes a controls ready receptacle that allows the customer to add either basic controls, such as an on/off photocell or motion sensor, or network control nodes for grouping and more sophisticated control functions. Beyond the standard features, additional options and accessories include high voltage (277-480V), battery backup, visual comfort lens, back light shield and visors. The M Series family provides a comprehensive site design solution for your outdoor lighting needs.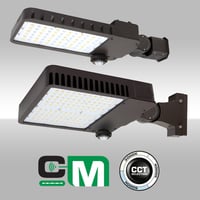 Slim Area Lights
Area Light
The LED Slim Area Lights deliver class-leading efficacy in a lightweight design that can be effortlessly applied to new and retrofit outdoor projects. Offered in lumen packages ranging from 7,700lm to over 40,000+lm, the AR Series achieves up to 158 lumens per watt while providing signicant long-term energy and maintenance cost savings. All fixtures are available in a variety of distribution patterns, mountings, and sensor options. Contact MaxLite for availability of a specific product combination.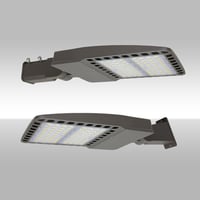 High Efficiency Area Lights
Area Light
The ARE high efficiency area lights are a pragmatic and logical choice when you need energy savings on an area lighting application. It is a high efficiency Area fixture with efficacies as high as 172LPW. It comes in 6 wattages with two mounting and three distribution choices. The standard version is 277-480V with 20kA surge protection. It is also available in 120-277V. It has a control base installed which allows you to field install either a photocell or motion sensor.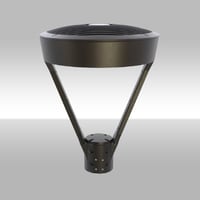 Post Top Spider Mount
Area Light
Maxlite's Post Top Spider Mount offers a sleek stylish area fixture ideal for pathways and parks for general area lighting applications. It comes in 3 different outputs and offers photocell and motion sensor options.