Maxlite flood lights family of fixtures combines performance, design and quality in one. Maxlite flood lights include: M Series, Floodmax, Slim Flood, Bullet Flood, FieldMax High Output, Small Flood, MPulse High Output Flood, MPulse Flood.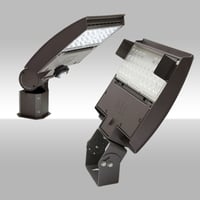 M Series
Flood Light
The M Series product family provides a slim, clean design with tremendous versatility for outdoor lighting applications. A singular housing thrives as either an Area, Flood or Wall fixture depending on the optics and mounting selected. The standard product is CCT selectable, enabling the customer to choose from 3 color temperatures in a single product. It also includes a controls ready receptacle that allows the customer to add either basic controls, such as an on/off photocell or motion sensor, or network control nodes for grouping and more sophisticated control functions. Beyond the standard features, additional options and accessories include high voltage (277-480V), battery backup, visual comfort lens, back light shield and visors. The M Series family provides a comprehensive site design solution for your outdoor lighting needs.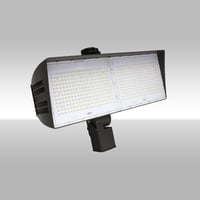 Floodmax
Flood Light
The FloodMax family of fixtures combines performance and design in a value package. It is available in 4 sizes and 7 wattages ranging from 20W-310W. The smaller sizes come with threaded adjustable knuckle slipfitter or a trunnion. The larger sizes come with either a 2 3/8" adjustable knuckle slipfitter or a trunnion. Typical applications include general area lighting, facade, landscape as well as signage.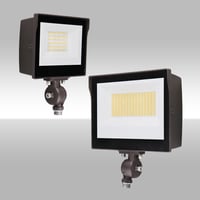 Slim
Flood Light
The MaxLite Slim Flood Light family delivers high performance in a small and price-effective package. All versions are available for a variety of mounting applications - 1/2" threaded knuckle, yoke and slipfitter. Many models are CCT and Wattage selectable and include a photocell. A 3-pin NEMA twist lock photocell receptacle with shorting cap is included standard on the 200W and 300W models.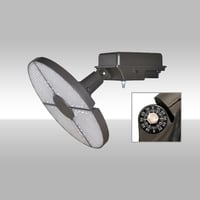 FieldMax High Output
Flood Light
FieldMax™ High Output Flood Lights deliver maintenance-free, high quality lighting for sports and recreational fields (Class of Play III or IV), and other large outdoor spaces. FieldMax LED luminaires provide bright, uniform light with precise beam angles that optimize safety and visibility for athletes, employees and spectators. Delivering exceptional efficacy up to 180 lm/W, the series is available in three wattages to replace metal halide fixtures from 750W to 1500W.