Maxlight wall pack light offer enhanced performance and features and include: Wallmax Open Face Wall Packs, Wallmax Compact Open Face, Wallmax Cutoff Wall Pack, Wallmax Thin Cutoff, and GuardMax Entry Wallpack.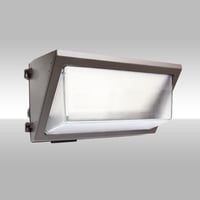 WallMax Open Face LED Wall Packs
Wall Pack Light
The new generation of WallMax Open Face LED Wall Packs provides flexibility for distributors and contractors with field-selectable CCTs, wattages (55W and 120W models) and field-installable controls. The housing has been enlarged to cover HID fixture footprints and accommodate battery backup in all sizes. The Wall Packs feature a controls-ready receptacle compatible with c-Max controls. The simple plug-and-play sensor receptacle enables c-Max control nodes to be added at the time of installation, or in the future. as well as allowing for future control upgrades without changing the fixture. The receptable is located at the bottom of the fixture and looks through a window, which minimizes the impact on the fixture aesthetics. A cover is included to hide the window when controls are not used.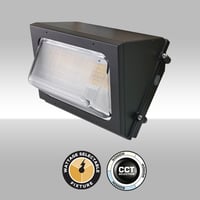 WallMax Compact Open Face - CCT & Wattages Select
Wall Pack Light
The WallMax Compact Open Face Wall Pack is a smaller version of our standard WallMax Open Face Wall Pack. Like its larger sibling, it offers many field-selectable CCT and wattage options. For controls it includes a photocell standard with an on/off switch to empower the customer with the option to engage the dusk to dawn feature. Available in 3 wattages (28/40/60W) it provides a value solution for standard wall lighting applications.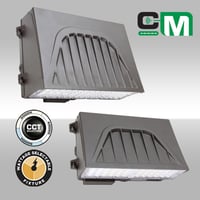 WallMax CutOff Wall Pack
Wall Pack Light
WallMax Cutoff Wall Packs are a full cutoff architectural wall mounted fixture ideal for commercial offices, schools and other public administrative buildings. It offers a wide range of outputs and options including CCT selectability so the customer can choose between 3000K, 4000K and 5000K color temperatures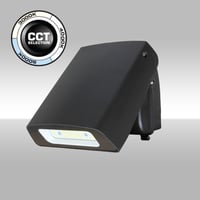 WallMax Thin Cut Off Wall Pack
Wall Pack Light
WallMax Thin Cutoff Wall Packs are constructed with pivoting heads that aim light precisely while minimizing glare and backlight. These durable, energy-saving fixtures are perfect for lighting outdoor walkways, landscapes, parking areas and perimeters. Efficacy for the series reaches up to 131 lm/W, translating to 75 percent energy savings over HID luminaires. The fixtures include a variable voltage photocell that provides further energy savings. Available in small (20W, 29W) and large (70W) outputs, LED Wall Packs are designed with sleek, heat-sinking fins that extend the L70 lifetime of the fixtures to an exceptional 100,000 hours at TM-21 standards.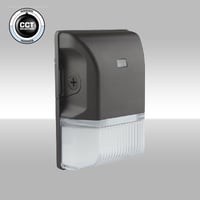 GuardMax Entry Wall Packs
Wall Pack Light
MaxLite's GuardMax Entry WallPack with dusk-to-dawn photocell provides optimal illumination for outdoor commercial and industrial environments. Available in an architectural bronze or white finish, the fixture saves up to 81% of the energy consumed by incumbent lamps, and is backed by MaxLite's five-year limited warranty.