RAB cylinders offer contemporary and versatile designs, making buildings look great both inside and out. Great for applications from kitchens, conference rooms and auditoriums to entryways, façades and awnings.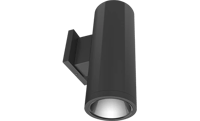 LED CYLINDER
CDLED™ LED Cylinders; 10W - 40W
Classic architectural lines, and a downlight under the hood. LED cylinders that look as great as they perform.
Contact Us
We can help you select the right RAB cylinder lights for your project.