Although only about 5% of the sporting facilities currently operating in the United States are using LED lighting, increasing numbers are starting to make the switch. Already hundreds of sporting arenas and stadiums across the country have begun retrofitting their facility with LED lights. And they're saving bundles of money by making the switch. Here are ten big time athletic stadiums that have made the change to LED:
NFL: The Minnesota Vikings. U.S. Bank Stadium

is currently under construction and set to open in July 20

16 with a patented system of LED lighting for large sporting arenas. Games will be hosted in the new venue for the 2016-2017 season and the LED lights are set to have an impact on day one. Vikings Owner/President Mark Wilf noted excitement about the new project "because of the impact it will have on the fans inside U.S. Bank Stadium and those watching on broadcast television." Super bowl 52 is already on the schedule to be hosted at

the new Vikings stadium.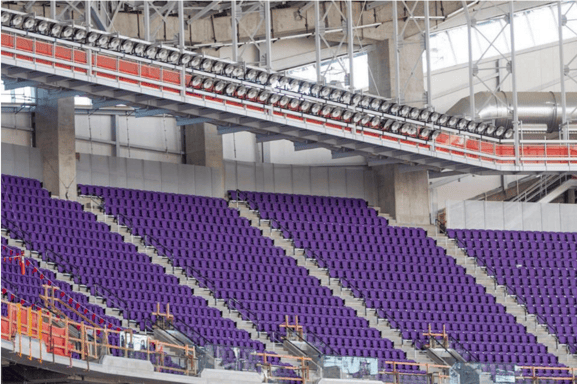 Image and Quote From Vikings.com
NFL: The Miami Dolphins

are host to several of the world's largest high-definition LED displays (the largest of which measures approximately 15 m tall by 42 m wide, or 636 m

2

). According to LED magazine,

Sun Life Stadium

held the world record for a short time as it passed the 22m x 24m (521 m

2

) display in Atlanta's Turner Field, but it has since been surpassed itself by a new HD screen at the Tokyo racecourse measuring 660 m

2

.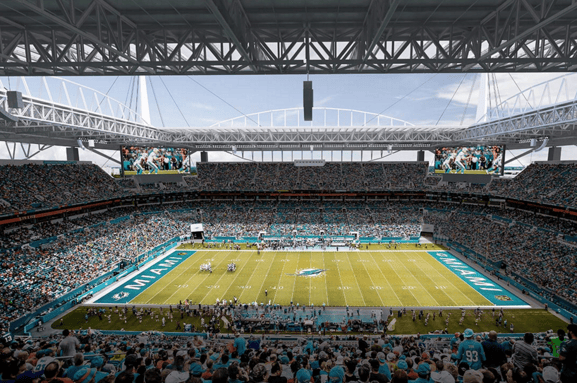 Image From NewMiamiStadium.com
Other, even larger LED screens that don't conform to the high-definition standard exist, such as the NASDAQ screen in Times Square, the Viva Vision Screen on Fremont Street in Las Vegas, and the 2008 Olympics screen in Beijing.
CFL: Mosaic Stadium

, host to

Saskatchewan's Roughriders

"was the first Canadian Football League stadium to implement LED lights" according to a recent Forbes

article

. Riderville.com, the team's official site, reports that

"400 LED fixtures with wireless control will illuminate the new stadium and provide an improved experience for athletes, performers and spectators with an industry leading glare control system."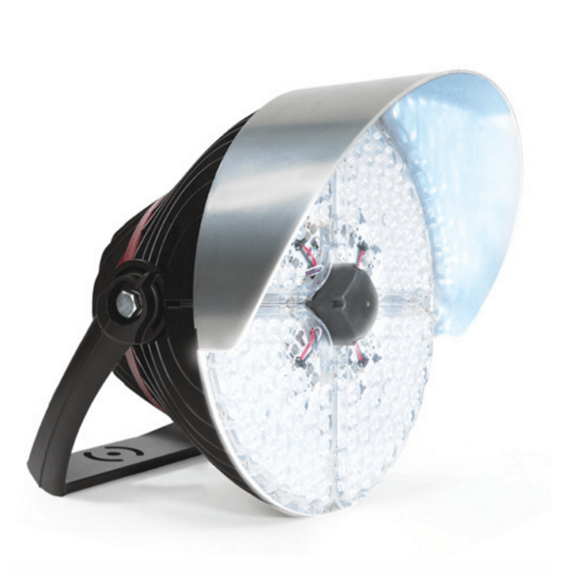 Image From EphesusLighting.com
AHL: War Memorial Arena

, host to the Am

erican Hockey League's Syracuse Crunch was the first professional hockey arena to install LED lighting. Forbes

reported

that the Crunch "reduced its power usage from 263,000 kilowatts to roughly 32,000 kilowatts by switching to LED. An 87% reduction in energy usage equates to real savings." No

w five different NHL teams have joined them to include Philadelphia's Wells Fargo Center, Ottawa's Canadian Tire Center, Carolina's PNC Arena, Montreal's Bell Centre, and Los Angeles' Staples Center. LED lights replace traditional metal halide bulbs and apparently helps th

e players and the fan experience as well. Tampa Bay's Assistant Manager Julien BriseBois noted in an interview with SI.com that "(LED) makes everything brighter, the ice whiter and the colors pop out more."

For a comparison between LED and HID lights like metal-halide read

here

.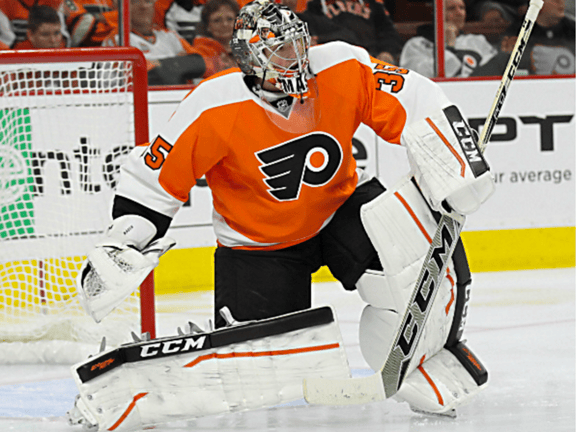 Image From Philly.com
MLB:

In January 2015 the

Seattle Mariners

became the first professional baseball team to illuminate their playing field with LED lights. The new lights replace

Safeco Field

's metal halide bulbs (a type of high-intensity discharge light). For a comparison between LED and HID lights read

here

. The new LED lights are likely to operate for more than 100,000 hours (more than three times the lights they are replacing) while significantly improving player and fan experience and completely eliminating the traditional twenty minute warm-up period characteristic of metal halide bulbs. To understand why metal halide and other HID bulbs require such a long warm-up period read

here

.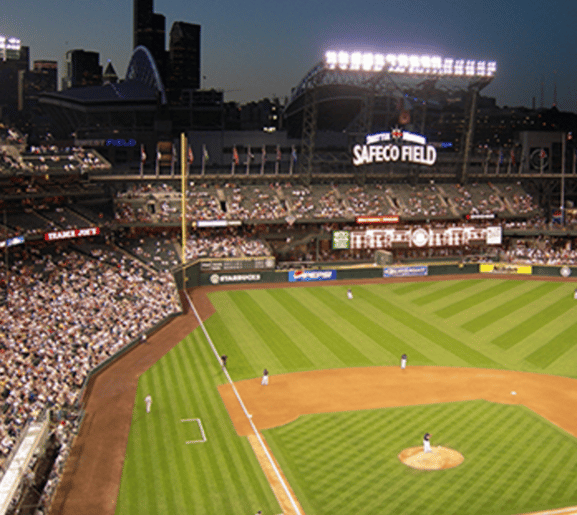 Image From ChooseWashingtonState.com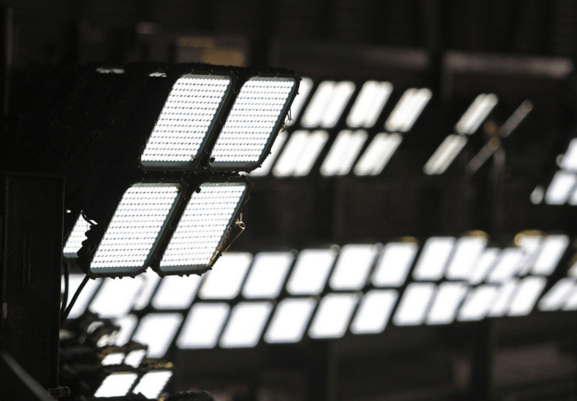 Image From PlanLED.com
6-10. Colleges Around The Country:
The

University of Miami

shares its stadium (Sun Life Stadium) with the Miami Dolphins so it benefits from the new LED upgrades. Other universities (#s 7-10 in our countdown) around the country that have made the conversion to LED include

Duke

,

Cornell

, the

University of Phoenix

, and the

University of Ohio

.
Brooks Field

at Duke University's

Wallace Wade Stadium

will become the second field at the Duke campus to illuminate the Blue Devil playing field with LED lights (expected in 2016). According to Ephesus Lighting, "

Williams Field at Jack Katz Stadium, the home turf for the Duke women's field hockey team, became the first NCAA Division I outdoor facility" to install LED lights. According to the Duke Chronicle, "The new LED lighting will provide more illumination than the previous system while reducing energy consumption by 40 percent."
Image From TheManufacturer.com
According to the Cornell Chronicle,

Cornell University

has begun to install "new LED lights at all campus athletic facilities at its Ithaca NY campus including

Lynah Rink

,

Bartels Hall

,

Newman Arena

, the

Friedman Wrestling Center

and the

Oxley Equestrian Center

." The Chronicle interviewed Men's Basketball coach Bill Courtney who said that "every student-athlete wants to play in the best environment possible, and the new LED lighting enables that. Photographs look more crisp, and the video is more colorful." Mr. Courtney is highlighting one of the most important qualitative measures often overlooked when installing LED lights: they have some of the most natural color rendering of all lights on the market. Most of the time an LED retrofit focuses on reduced costs in both energy consumption and maintenance but the truth is quality improvements are a major component of every LED retrofit. For a full discussion of Color Rendering Index (CRI) and Color Temperature (another common indicator of high quality light) read

here

.
Photo from Leslie Hiner of the Cornell Blog
The University of Phoenix Stadium was one of the first facilities to replace their metal halide bulbs (780 in all) with modern LED lights (312 new fixtures). Stadium officials claim that "the light measured on the field nearly doubled to 277 foot candles." One of the major benefits of LED lighting is the system efficiency measured in foot candles (the actual illumination measured in the target area of interest). For more about foot candles read

here

or

here

.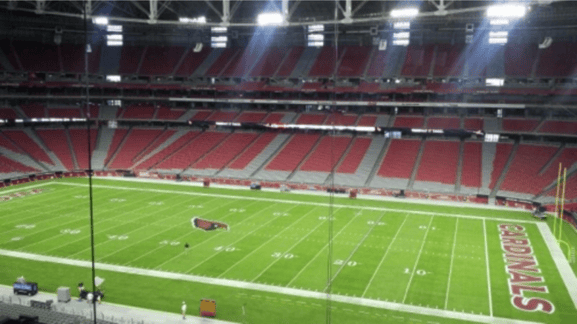 Image From LEDsMagazine.com
The

University of Ohio Convention Center,

host to the school's basketball, volleyball, and wrestling team, recently upgraded their lighting to LED. The new lights replace both metal halide and incandescent bulbs, bringing the stadium up to NCAA broadcasting standards for light quality and uniformity.
All across the United States large sporting venues as well as smaller high school and university arenas are adopting high quality, low energy consumption, long-lasting LED lighting technology. To find out how you can take advantage of this exciting new technology contact Stouch Lighting today.