Nebraska Medicine has developed an effective and safe method for the decontamination of one-use personal protective equipment (PPE) so that this equipment can be used multiple times instead of being disposed of after initial use, or, worse, used again without decontaminating, which is happening all over the world.
This is groundbreaking in light of the coronavirus, or COVID-19, pandemic. As more and more hospitals and medical facilities across the world run low on vital protective equipment and the virus continues its rapid spread, being able to safely reuse PPE is paramount. Learn more about the use of UVGI in hospitals and medical facilities.
The study provides an outline for the decontamination and reuse process for N95 filtering face mask respirators utilizing UVGI (ultraviolet germicidal irradiation), which could be an answer to the shortage of PPE that protects front-line medical workers.
Click here to download the full UNMC/Nebraska Medicine decontamination method!
Per the University of Nebraska Medical Center's study, entitled N95 Filtering Facepiece Respirator Ultraviolet Germicidal Irradiation (UVGI) Process for Decontamination and Reuse –
"A team led by John Lowe, Ph.D., University of Nebraska Medical Center assistant vice chancellor for inter-professional health security training and education, is using ultraviolet light towers to irradiate high numbers of masks, which were originally designed to only be used once. The strategy will allow Nebraska Medicine to greatly extend its supply of these items during the coronavirus pandemic."
According to the study, "The ongoing pandemic of SARS-CoV-2 resulting in COVID-19 has severely stressed the worldwide healthcare system and has created dangerous shortages of personal protective equipment (PPE) including N95 filtering facepiece respirators (N95 FFRs). In an effort to extend the stockpile of N95 FFRs at our institution, we developed a decontamination procedure involving the delivery of ultraviolet germicidal irradiation (UVGI) to used N95 FFRs. The evidence base supporting this program includes:
1) UVGI has been shown to effectively inactivate a wide range of human pathogens including coronaviruses and other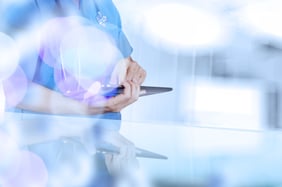 human respiratory viruses;
2) UVGI has been demonstrated to inactivate human respiratory viruses, including coronaviruses, on various models of N95 FFRs;
3) levels of UVGI needed to inactive human respiratory viruses are well below the level of irradiation that adversely affects the fit and filtration characteristics of N95 FFRs; and
4) UVGI can be safely administered when appropriate safeguards are in place."
The method and procedure developed can be found here in its entirety.
Want to find out what UV disinfection lighting equipment is most appropriate for your facility? Click here, or on the button below.