Hotels & Motels
78% of hotel guests agree that cleanliness is the single most important factor when choosing where to stay. Cleanliness and safety have a genuine impact on a hotel's reputation and bottom line.
As we've mentioned, manual cleaning simply does not do enough on its own. Sometimes cleaning this way actually does more harm than good as you spread germs from surface to surface. Add in UV-C disinfection procedures to your hotel's "cleaning" and market that to your guests- it's sure to make an impact and convince them to come back again, or stay at other branches.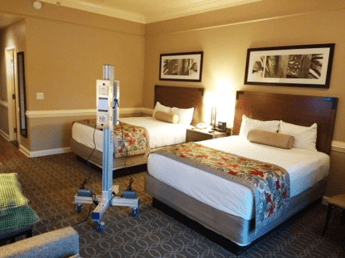 Puro Lighting
Guest rooms are a great place to start with UV disinfection in this industry, but the uses for this lighting extend beyond that to conference rooms, restrooms, gyms, pools, banquet halls- any space within your hotel or motel can utilize UVGI (ultraviolet germicidal irradiation), justifying your investment in UV-C systems.
Fitness Industry
Exercise and athletic facilities are at a higher risk for certain infections, think athlete's foot and staph, because of the close contact and the sharing of equipment. Gyms, fitness clubs, recreation centers, pools- all of these spaces are used by so many people each day, and bacteria thrive in moist (read: sweat!) settings. Distinguish your gym or athletic club from the others by providing your members with the assurance that their equipment, locker room, etc. is truly clean by adding that extra layer of protection UV-C disinfection light provides.
Here are just some of the specific spaces that can benefit from UV disinfection lighting in the fitness industry:
Gyms

Specialty fitness clubs and centers

Recreation centers, including youth rec

Public pools

Basketball courts, tennis courts, hockey rinks- all organized sporting

facilities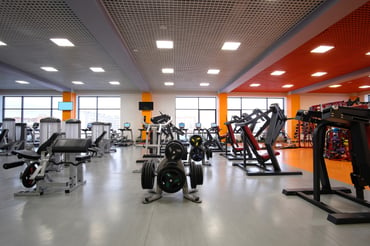 Travel Industry
Recently, cruise ships have gotten a lot of attention because of the novel coronavirus, which spread rapidly aboard multiple cruises, causing them to dock and isolate all over the world.
Airlines, airports, trains, and, train stations are additional spaces where close sustained contact and artificial air, as well as inconsistent manual cleaning, can lead to rapid spread of disease. And both cruise lines and airlines can flourish or fail based on customer safety and satisfaction.
Families love to travel from all around the world to theme parks, like Disney World and Six Flags, for getaways. Massive crowds waiting hours in line and then crowded in small spaces on rides, in bathrooms, in restaurants means swift spread of germs. Water parks are especially susceptible to spreading bacterial infections.
---
National Accounts
Similar to retail and hospitality are national accounts. Restaurant chains, national retailers, like clothing stores, grocery store chains, etc. also require disinfection because they're heavily trafficked and crowded and require a good reputation to succeed. The important distinction between a chain restaurant and a mom and pop restaurant, as an example, is scalability and national implementation. Stouch Lighting has experience facilitating cross-country lighting projects. We understand the importance of a uniform look and feel for brand loyalty purposes as well as seamless implementation across potentially hundreds of different locations.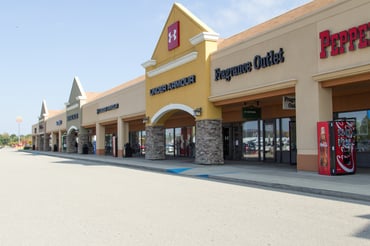 ---
Municipal & Government
Many towns, cities, etc. are familiar with UVGI as it is often used for the disinfection of wastewater. Relying on a UVGI system for your wastewater disinfection over traditional chlorine and other chemical methods is safer and more environmentally friendly while remaining comparable if not more affordable in cost. Most importantly, UV lighting effectively kills pathogens that chlorine treatment misses, namely Cryptosporidium, which causes gastrointestinal infection in humans.
UV-C light can also be used to disinfect surfaces, materials, and air, as we discuss as one of our FAQs here.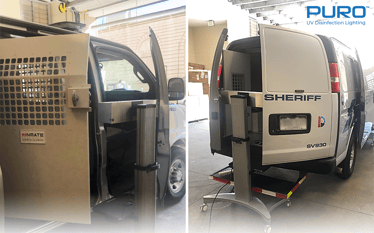 There are so many other municipal and government applications for UV-C light disinfection, and we list some below, but let's discuss another important one: correctional facilities. In the wake of the coronavirus pandemic, it's become clear that prisons and jails are breeding grounds for viruses and infections because of close living quarters. Protecting this population could be made easier with UV disinfection technology.
Here are some of the municipal and government facility types that can benefit from germicidal UV-C light disinfection:
Wastewater treatment plants

Parks and recreation facilities

Correctional facilities

Authorities

Veteran affairs

Judicial court facilities

Fire and police stations

Public works

---
Commercial/Industrial/Multi-Family
Commercial Real Estate/Offices
A clean work environment leads to healthier employees, which means less absence and more productivity for your company.
Aside from this, cleanliness and health is a trend- you could even qualify for the WELL certification, a designation reserved for buildings designed with health in mind. These types of certifications are a wonderful PR opportunity in addition to the obvious benefit of a healthier space. If you're looking to lease your space out, consider your use of germicidal UV-C light systems a marketing tool for potential tenants as well.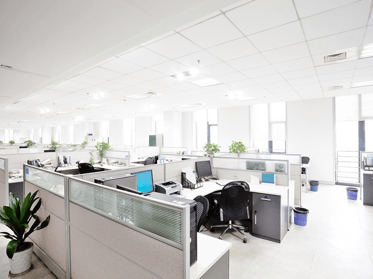 Industrial, Manufacturing, Distribution, and Warehousing
Industrial facilities often require the handling of material from diverse geographical regions, as well close contact of employees to keep production running.
---
Non-Profit
Many non-profits are gathering places for community members, and anywhere communities gather, germs spread. Churches, community centers, charitable organizations with community-focused services, etc. can all benefit from the extra level of protection UV-C disinfection light systems provide. Sadly, non-profits like homeless shelters often suffer breakouts of diseases because of close living quarters, as has happened with coronavirus.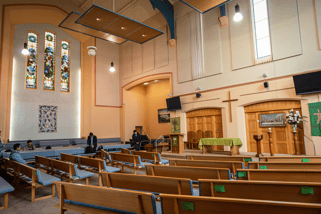 Here are some of the non-profits that can benefit from germicidal UV-C light disinfection:
Churches, synagogues, and other places of worship

Community centers

Homeless shelters

Food banks

Medical-related non-profits, like blood banks and clinics

Membership organizations, especially those with large conferences and gatherings

Other social welfare organizations