Stouch Lighting is happy to share a recent project in which we were able to meet multiple objectives for a client. M&T Bank in Wilmington, Delaware has an associated parking garage that is used 24 hours a day, and it was in need of a lighting update. Stouch devised energy efficient lighting solutions that reduced M&T's consumption, as well as provided higher quality lighting for users. Let's learn a little more about how to improve parking garage lighting!
LED parking lot lights = reduction in energy consumption
M&T previously had 150w high pressure sodium (HPS) canopy lamps that were replaced with 66w LED canopy fixtures. In addition, the wall packs internal to the parking garage were also HPS lighting fixtures, which is quite common in parking lots, parking garages, and other applications. Although HPS lamps have some benefits, here are some of the reasons facility managers and owners might want to replace them:
Cycling issues: High pressure sodium bulbs may flicker and/or cycle on and off as the bulb reaches the end of its useful life.
Wasted energy through omnidirectionality:

All high intensity discharge lights (of which HPS is an example) emit light omnidirectionally. This means they emit light for 360 degrees, requiring fixture housings or reflectors to direct a large portion of the emissions to the desired target area. This results in a lot of wasted energy (and extra costs) for organizations.

Maintenance costs:

High pressure sodium bulbs are long lasting but will still require replacement several times in addition to the labor cost to monitor and replace aging or expired components all within the lifespan of a single LED.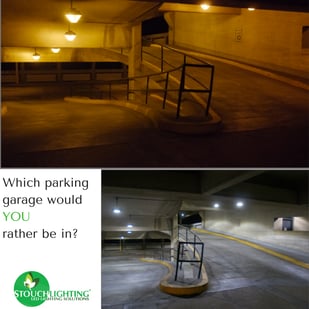 M&T Bank also had 400w metal halide lamps for the rooftop level. These were replaced with 137w LED flood light fixtures, which resulted in a decrease in energy consumption.
Cycling time: Metal halide lights require a notoriously long warm up period. Many stadiums have traditionally relied on metal halide lights but the bulbs can take 15-30 minutes to get to full operating power. This is not a great characteristic if you're looking to have responsive lighting.
Lighting efficiency:

Metal halide lights have average efficiency (75-100 lumens/watt source efficiency). They lose out to LEDs principally because their system efficiency is much lower (<30 lumens/watt) due to all of the losses associated with omnidirectional light output and the need to redirect it to a desired area.

Efficiency droop:

Metal halide lights experience efficiency losses as the device ages and additional current is required to achieve the same lighting output. Efficiency losses are greater than LEDs and the degradation time shorter.
What were the results of LED retrofit for M&T Bank's parking garage?
Here are the results that M&T Bank realized after updating their parking garage with LED lighting as opposed to legacy metal halides and HPS lighting fixtures:
Kwh Reduction - 299,598

Lighting Energy Reduction Percentage - 61% (consider the financial aspect of cutting your energy bill by 61%)

Annual Maintenance Cost Reduction - $22,691 (LEDs are much more reliable and have longer lifespans)

Rebate Eligibility - $62,675 (learn more about rebates and financing here)

Greenhouse Gas Reduction - 846,554 lbs

Total Fixtures Replaced - 385

Projected ROI - 10 Months (Stouch Lighting will do a free ROI calculation for your business or organization...click here)
Stouch Lighting can help you craft an energy efficient lighting solution for your parking lot or garage.
Please reach out to us if you have a parking garage or parking lot that would benefit from an LED retrofit. We are experts in our field and look forward to helping your organization achieve your energy-reduction, higher-quality lighting goals.