Measuring A High Quality Light:
When considering lighting for your real estate project there are a few basic measures you need to be aware of for the lights themselves. Here are the big three:
1. Color Rendering Index
(
CRI
):

CRI is a measurement of a light's ability to reveal the actual color of objects as compared to an ideal light source (natural light). High CRI lights will evidence colors much better than low CRI lights.

2. Color Temperature
(also known as Correlated Color Temperature or
CCT
): Color Temperature is a way to describe the characteristics of visible light from different emitters. In layman's terms it is a glow associated with a given light. That glow typically varies on a scale from red (typically called "warm") to blue (typically called "cool").

3. Foot Candle
: Foot candle is a measurement that specifies the total amount of light (in lumens; lm) that reaches a specified surface area (typically measured in square feet of space). The units of foot candle are lm/ft
2
.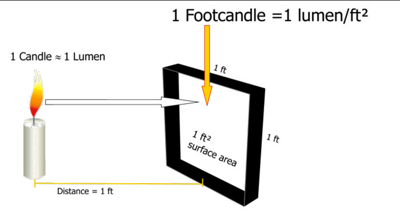 For an in-depth discussion of CRI, CCT, and Foot Candles, read here.
If you're evaluating the possibility of an LED lighting retrofit project we recommend you start with the following three important lighting indicators:
1. Light Quality: If you're interested in the quality of your light then CRI and CCT are your two primary indicators. High quality lighting will typically mean high Color Rendering Index and a color temperature to suit the requirements of the project. It also means achieving the desired intensity (brightness), and a consistent distribution of light throughout your target area. Oftentimes the type of light fixture (the pole in combination with the luminaire) will have a significant impact on how the light is distributed to the desired area. Old luminaires in many parking lot lighting applications, for example, can be fairly inefficient as they project a large portion of the light horizontally as opposed to vertically down towards the ground.

2. Energy Efficiency: If you're interested in energy efficiency then you need to look into foot candles. Even more specifically, you want to know the foot-candles (fc) per unit of power (Watts, W) used to produce them. Therefore, the most important measurement for energy efficiency in lighting is lm/W∙ft2 (foot candles per unit of power). Do not confuse this measurement with the much more commonly reported luminous efficacy (lm/W). The major deficiency with luminous efficacy is that it doesn't account for the effects of optically focusing light (i.e. it tells you how much light is emitted in general but not how much light is concentrated and/or actually reaches the area where it is specifically desired). Perhaps the most important phase of a retrofit evaluation is a survey of the area with a properly calibrated light meter to find out the level and consistency of the light levels present. This will give you a meaningful benchmark in order to calculate exactly how much room for improvement there is in your overall system efficiency. If you are interested in a free discussion about your lighting retrofit project or would like a complimentary visit from a Lighting Certified professional then contact Stouch Lighting or give us a call at 866-964-8559.
3. Lifespan & Maintenance: Lifespan is usually measured in hours and can range from roughly 1,000 hours in the case of traditional incandescent bulbs to nearly 25-100 times that in the case of many LEDs. When comparing the financial impact of lifespan for specific lights it is important to recognize the up-front cost of purchasing the light must be multiplied by the number of times a replacement light is expected to be required. For example, to properly compare an incandescent bulb with a lifespan of 1,000 hours to an LED with a lifespan of 100,000+ hours, you would have to multiply the purchase price of the incandescent light by 100 as you would expect to purchase a new bulb 100 times before similarly needing to replace a single LED. The LED in this case will likely have a higher initial cost but would make up that investment many times over throughout the lifespan of the light.
There can also be significant costs associated with waste disposal and labor when required to routinely replace lights due to the wrong choice of lighting up front. Fluorescent lights, for example, contain mercury and thus require special disposal procedures. Other lights, like metal halide for example, have the potential to explode at the end of their life cycle and so it is often recommended to replace them before the useful lifespan of the light is even reached.
Why Implement LED Lighting:
Properly outfitting your facilities with high quality, energy efficient lighting should be a priority for facility managers. Doing so, however, requires expertise that most building and facility managers don't have. It is useful to work with a Lighting Certified (LC) professional and a reliable manufacturer to ensure you utilize lighting best practices for either retrofit or new construction.
Properly outfitting your property with modern lighting can also improve the aesthetics of your facility as well as the safety and security of those who live and work there (potentially hedging your organization against expensive lawsuits). Additionally, modern LED lighting in particular is extremely energy efficient relative to the technology it is replacing. As a consequence, LED retrofit projects can have a significant positive impact on the overarching financial health of your organization. This is the case for several reasons. First, modern LED lighting lasts an order of magnitude longer than many of its competitors significantly reducing replacement costs. Second, LED technology runs on a fraction of the total energy required by outdated lighting systems (so your energy bill goes way down and your positive cash flow goes up). You can literally finance the entire retrofit project out of the savings you will generate in taking it on. Lastly, LED lighting quality is much better than virtually all of the exterior lights it is replacing. Now that LED brightness has caught up with contemporary lighting types it is a great choice for virtually everywhere on your property.
The next thing to consider is the physical space you are planning to illuminate. Speaking in broad terms, the two major categories are interior and exterior lighting. Exterior lighting options include everything from flood lights for area illumination to decorative lighting and wall pack lights for building exteriors.
Typical Exterior Lighting Projects:
We like to think of exterior lighting for real estate organizations in one of the three following categories because the lighting applications are fairly similar within the general category.
1. Parking Lot Illumination: The three biggest considerations in parking lot lighting are the chosen light itself, local ordinances regarding the use of outdoor light, and the fixtures used to house and project the light towards the ground (e.g. the pole and luminaire or "housing"). Of note, some municipalities have enacted statutes regarding "light pollution" and local rules can stipulate the type of lights and the quantity of light that can be emitted in a given situation. One of the things you want to consider is the uniformity of the lighting throughout the given area. Uniformity is a measure of the average light in the area and is expressed as a ratio of the average light level to the lowest light level measurement in the area. A typical ratio recommended by lighting engineers for parking lot illumination is around 3:1. Most parking lots fall well short of the light output recommended by the Illuminating Engineering Society of North America (IESNA).

2. Wall Pack and Building Lighting: Real estate projects like shopping centers and malls rely on exterior lighting around the clock. Aside from parking lot lighting, one of the biggest lighting decisions for facility managers is wall pack lighting and building accent lighting. The fact that traditional lighting solutions like incandescent bulbs have to be replaced so frequently can present a significant problem for building managers. Replacing these lights with long lasting LED lights (up to 100,000+ hours on a single light) can significantly reduce maintenance costs otherwise associated with the purchase of replacements and the labor required to frequently change them out. Additionally, LEDs are vastly more energy efficient than the technology they are replacing which means that the costs of operating a large building with significant wall pack and other exterior lighting can be meaningfully reduced. In fact, you can finance your entire project out of the savings you will generate by making the switch. Further, LED lighting does not produce heat like many other lights so you will meaningfully reduce HVAC costs as a unexpected side effect.

Whether you are interested in starting a new real estate project, converting an old one to a new purpose, or retrofitting an existing building with more efficient lighting, we would be happy to provide you with an in-depth lighting audit. We have lighting certified experts that can provide cost-benefit analysis and return on investment calculations to highlight the exact benefit you can expect from implementing an LED lighting solution at your property.
3. Canopy and Walkway Lighting: LED lighting is a great solution for exterior beautification purposes. Two of the most typical applications for exterior real estate lighting projects include canopy and walkway lighting. In-ground lights, solar powered walkway or accent lights, and LED landscape lighting are amongst the most popular choices for highlighting walkways and for decorative purposes outdoors. Canopy lighting is another instance where powerful LED illumination can functionally replace your current technology while simultaneously providing a huge boost in energy efficiency.
Here's a quick comparison of different light types for your exterior lighting project:
| | | | | | |
| --- | --- | --- | --- | --- | --- |
| Light Type | Light Quality | Energy Efficiency | Lifespan & Maintenance | Initial Cost | Lifetime Cost |
| Mercury Vapor | Poor (Bad Color Rendering) | Poor | Very Good | Moderate | Moderate |
| Low Pressure Sodium | Very Poor (Monochromatic Yellow) | Excellent | Poor | Low | Moderate |
| High Pressure Sodium | Poor | Excellent | Very Good | Moderate | Low |
| Metal Halide | Excellent | Good | Good | Moderate | Moderate |
| Ceramic Metal Halide | Excellent | Excellent | Very Good | Moderate | Moderate |
| LED | Excellent | Excellent | Excellent | High | Low |
We recommend LED lighting as the best solution for most projects. For a more in-depth discussion of LEDs as they compare to the available alternatives take a look at our free e-book:
Typical Interior Lighting Projects:
We like to think of interior lighting in one of the two following categories because the interior lighting applications are fairly similar within the general category.
1. Indoor Lighting Types For Multi-Family Properties: Keeping the lights on in your multifamily property is a significant operating expense. Fortunately, lighting technology for apartments, assisted living, campus living and condominiums is changing rapidly, with new options available every year. LED lights are emerging as an increasingly cost-efficient option. While the up-front costs are still higher than many alternatives, those costs have been steadily declining and the user ends up seeing significant long-term savings over the lifetime of the light. Here is a quick comparison between LED technology currently on the market and a list of bulbs it replaces in your multi-family real estate facility:
| | | |
| --- | --- | --- |
| Section Of Building | LED Light | Traditional Light It Replaces |
| Parking Garages | LED Wraparound Fixtures, LED Vapor Tight Linear | T-12 Fluorescent, HID |
| Stairwells | LED Vapor Tight Linear | T-12 Linear Fluorescent |
| Hallways | LED Replacement Lamp | Incandescent or Halogen (In Recessed Can) |
| Wall Sconces | LED Lamp | Incandescent |
| Lobbies | LED Replacement Lamp | Incandescent or Halogen (In Recessed Can) |
| Common Rooms | LED Replacement Lamp | T-12 Linear Fluorescent or Incandescent In Recessed Can |
| Offices | LED Replacement Lamp | T-12 Linear Fluorescent or Incandescent In Recessed Can |
| Exit Signs | LED Lamp | LED Lamp |
2. Indoor Lighting Types for Commercial and Industrial Property: Typical industrial and commercial lighting fixtures include high bays, shop lights, flood and area lights, canopy fixtures, recessed 2x4 or 2x2 troffers, and recessed cans. While many of these applications have been traditionally provided for with fluorescent, HID, or incandescent bulbs, advances in LED lights are moving them towards a leadership role in the industry. LED light fixtures that are available for industrial and commercial properties include LED low bay fixtures, LED troffers (great for schools or university, medical facilities and hospitals, as well as commercial office space), LED wraparound fixtures (similar to fluorescent shop lights), LED vapor-tight linear lights (great for parking garages), and LED dock lights (great for spot-lights in the shipping industry, for use at a fishing dock, or at an inspection station).

If you are considering an LED retrofit project, we would be happy to provide you with an in-depth lighting audit. We have lighting certified experts that can provide cost-benefit analysis and return on investment calculations to highlight the exact benefit you can expect from implementing an LED lighting solution at your property, whether inside or outdoors.