Stouch Lighting is pleased to announce the completion of an LED retrofit for the Kaiserman Company's Kevon One Office Center in Pennsauken, New Jersey.
If your parking lot looks orange or yellow and dark, read through the results of Kaiserman Company's LED retrofit, below, to see the difference LEDs can make.
The project entailed the one-for-one replacement of 25 HID light fixtures with high efficiency LED lights and fixtures. The legacy HID bulbs were composed of low CCT high pressure sodium lamps used to illuminate the parking lot and legacy mercury vapor lamps used previously as roof mounted flood lights. These old lights were rendering as yellow or orange.
Stouch Lighting used its expertise as a lighting distributor to choose the proper replacement lights for the project, and also served as the project manager during implementation. In addition to the huge reduction in energy and maintenance costs that will benefit the Kaiserman Company for years to come, we were able to improve light levels by specifying the appropriate light distribution patterns for new LED fixtures at various locations within multiple parking lots. For more on the difference between LED and HID lighting read here. Take a look at a few images of the project before and after the LED retrofit: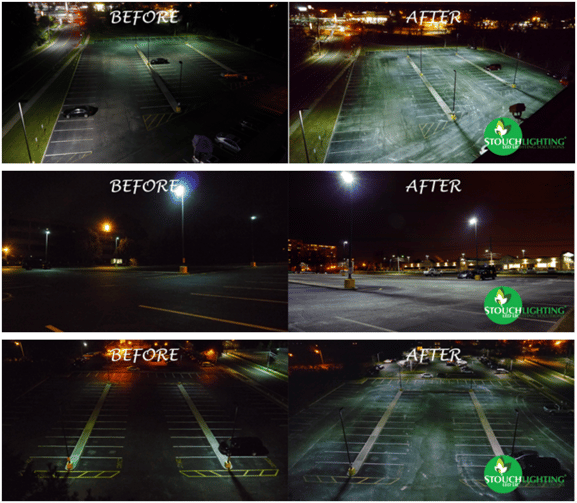 In the next image, you can really see the impact of a light's color temperature on its ability to render color to the human eye. The "before" image below is showing the light from the building's roof-mounted high pressure sodium (HPS) lights. HPS lights are only available in "warm" color temperatures (roughly 2200K) and, as you can see, they render color very poorly (they have a low color rendering index, or CRI). HPS lights are the monochromatic yellow (or orange) lights you often see on streets and in parking lots. They have been the dominant light for municipalities for several decades because of their high efficiency. That is all in the process of changing now that LEDs have far surpassed them in both the quality of light and the energy efficient way in which they operate.

The Kevon One Office Center was able to reduce its existing energy consumption by 78% (a 28,472 annual Kwh reduction). Considering the average cost of a Kwh of electricity is about $0.12, the annual savings total to roughly $3,417. Annual maintenance savings on top of the energy savings were estimated to be $1,178, and greenhouse gas reduction was estimated at 18,401 lbs annually.
See the table below for a full comparison or read the case study here:
| | | | | | | | |
| --- | --- | --- | --- | --- | --- | --- | --- |
| Light | Used For | # of Fixtures | Watts/Fixture | Total Watts | Energy Reduction Per Fixture | Total Energy Reduction | Color Temperature or CCT |
| Mercury Vapor | Building Mounted Flood Light | 5 | 250 Watts | 1250 | - | - | - |
| LED | Building Mounted Flood Light | 20 | 68 Watts | 1360 | 182 Watts | (4 Times as much lighting at only 90 Watts total additional) | - |
| High Pressure Sodium | Parking Lot Light | 20 | 400 Watts | 8,000 | - | - | 2200K |
| LED | Parking Lot Light | 25 | 117 | 2925 | 283 Watts | 5,075 | 5700K |
As you can see, retrofitting HPS lamps with LED lights made a big difference in the cost, effectiveness, and aesthetics of the Kevon One Office Center parking lot. Unfortunately, HPS lamps are somewhat ubiquitous, so there's a good chance that is what your facility is using. At Stouch Lighting, however, we have the knowledge and expertise to guide your organization through the process of an LED retrofit.
Contact us today to see how we can help, or use the ROI Calculator above!