As we discuss in our UV-C light education page, germicidal UV-C lighting is versatile and available in different forms to suit its many applications. UV-C light is commonly used in medical settings, in schools, for wastewater treatment, on public transportation, and more. There's a fixture type to suit every need.
Mobile UV-C Disinfection Units
Germicidal UV-C light systems are available in portable form as mobile UV-C disinfection units. These units or carts can be moved easily from room to room to disinfect multiple spaces. They're commonly used in hospitals and other medical facilities; after a patient room or operating room has been cleaned, for example, and is ready for the next patient, the mobile UV-C disinfection unit is placed in the room and activated to disinfect surfaces and air in that space. These units are usually on wheels or tripods and are easy to operate and transport.
Use of these units in conjunction with traditional cleaning methods has been proven to reduce bacterial load by 70%.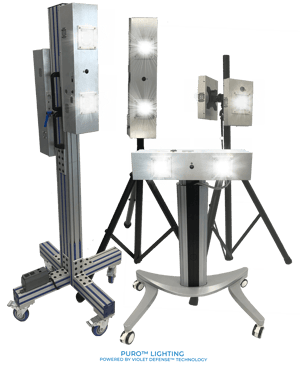 Mobile units are useful in many applications other than healthcare too. Take for instance a gym; the locker room, the individual fitness class rooms, the main gym floor, the basketball court, the pool, each of these areas requires disinfection. Rather than buying multiple germicidal UV-C units, consider a cart that you can transport to each of these areas when needed.
This gym is now equipped with UV-C lights to combat coronavirus as it reopens to the public.
UV-C Ceiling and Wall Fixtures
Aside from mobile UV light units, permanently installed fixtures are available for various applications as well. Consider the following:
Ceiling installed- These UV-C disinfection fixtures are hung from the ceiling of your facility, often recessed within the ceiling like a conventional troffer, or hung via chain or aircraft cable. Ceiling mounted UV-C light fixtures are extremely effective because you can space them apart appropriately to disinfect your specific space based on size and level of disinfection required.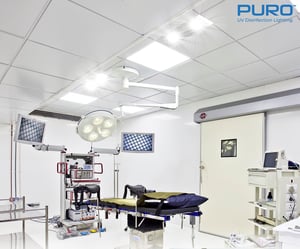 Wall mounted- Similarly to the ceiling installed fixtures, wall mounted fixtures can be spaced and installed for appropriate disinfection levels based on the size and contours of your facility.
All of these options can disinfect on demand with preset and controllable cycles. You can even run the cycles overnight or whenever the spaces are unoccupied, and all fixtures have automatic shutoff sensors if anyone were to enter the space during disinfection (read more about safety and UV disinfection lighting here).
HVAC Fixtures
Aside from the many diverse applications for germicidal UV-C lighting detailed above, the lighting can be used successfully in HVAC and other air handling systems. This is relevant for nearly all of the applications. UV disinfection systems are mounted in new or existing (you don't even have to get new duct work) duct systems, controlling the spread of airborne toxins by killing germs in the air before it circulates. One of the great advantages of this is that you can install the disinfection system and let it be without much thought, but the health benefits of your germ-free air remain.
You may be interested in this study, which proves that this office had lower fungal levels after just four months with an HVAC UV-C system.
There are numerous benefits of each of these UV-C disinfection fixture types, including chemical-free cleaning, proven effectiveness, and consistency of cleanliness. Set your business apart from others with germicidal UV-C disinfection fixtures or units and get targeted, customized disinfection.