We recently wrote a post about why you should choose LED lighting for food processing plants and cold storage facilities.. If that post convinced you that you need LED food processing lights, you may be wondering where to go next. In this post, we'll discuss what specific lights and fixtures you might need in your facility to get all of the benefits we discussed in that last post.
Food and beverage manufacturers have many unique spaces housed under one roof. You may have cold storage, assembly lines, packing and shipping centers, parking lots, etc. and each has its own lighting. This list encompasses all of these spaces.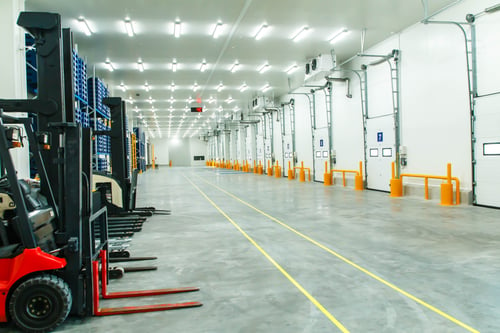 Below we'll define and discuss the types of lights you might need/have in your food processing plant that can be retrofitted or newly equipped with industrial LED lights.
A Note on Safety Certifications for Food Safe LED Lights
The NSF (National Sanitation Foundation) and other certifying bodies have special requirements for lighting to be deemed food safe, and we have LED lighting that is certified to meet these standards. Here are just some of the standards LED lights, including all of the varieties we'll discuss below, can meet:
IP69K certified, meaning the fixtures can withstand high levels of water jets for cleaning

NEMA enclosure ratings, meaning the fixtures won't be affected by dust and other particles

Mercury-free, unlike traditional bulbs, which pose storage, safety, and disposal concerns

NSF/ANSI certifications to meet splash zone (products judged on smoothness, resistance to corrosion, and ability to be manually cleaned) and food safety (toxicology analysis) requirements
Indoor Lighting
High bay LED lights are mounted via a pendant or chain, or directly to a ceiling or ceiling girder. Often mounted higher than recessed troffer or fluorescent surface lighting applications, high bay fixtures are used in buildings with higher ceilings to provide illumination to large areas. Many industrial applications like food and beverage manufacturing facilities need high bay lights for their large, open areas that do have those high ceilings but still need good light levels on the ground for employee visibility.
Fluorescent lights are a type of lamp used inside a variety of fixtures. Before LED lighting, fluorescent lamps were ubiquitous, so you may have them in many of your lighting applications currently. They can be replaced with LED lights in most of these applications without issue, and you'll realize all of the benefits of LED post-retrofit.
Vapor tight fixtures are sealed and gasketed luminaires that provide general lighting for environments where exposure to water, humidity, and dust is likely to occur. Commonly referred to as "wet location" fixtures, vapor tight lighting comes in a variety of sizes and shapes, however, it's most commonly found in two to eight feet lengths. These luminaires are usually mounted on ceilings, soffits, walls, or in any other commercial and industrial building or facility where exposure to water or dust is a concern. Because food processing plants have strict cleaning standards, vapor tight lighting can be a good choice because they can be sprayed with water and remain functional. Vapor tight may be a type of hazardous location lighting, which we delve into below.
Outdoor Lighting
Parking lot lights are just as they sound- those high mounted pole lights used to illuminate parking areas of your facility. These traditional LED parking lot lights are perfect for the employee parking lots where your staff leave their cars for the day/night while they're completing their shifts. Remember, it's vital to have effective parking lot lights to keep employees safe, especially in the food and beverage manufacturing industry, where employees could be walking to their cars after a graveyard shift.
Wall pack lights and building lights are terms describing the outdoor lighting that is commonly mounted on the exterior walls of buildings. This type of exterior lighting is generally used to provide illumination to areas for vehicles and pedestrian use, as well as for security purposes. It is not uncommon to see multiple fixtures mounted on a single building or wall, with the fixture spacing designed to provide lighting at the ground level around the exterior of a building. These lights at your food processing plant will make the outside of your building safe and visible.
Outdoor LED flood lighting is a term used to describe the exterior lighting that is commonly mounted on buildings or poles to provide directional illumination to a variety of space types. This type of lighting is often used to provide light to areas for security, vehicle and pedestrian use, and building wall washing as well as for spaces used for sports activities and other large areas in need of general outdoor illumination. You may also see flood lighting in the ground to provide this directional illumination. Flood lighting is just another outdoor option to fit your facility with LED lights.
High mast lighting is a type of outdoor site light fixture that is commonly used to illuminate large areas from a very high mounting height. You might see this type of pole light in a port or a large sports arena. At a food processing plant, high mast lights would be useful for shipping depots, where large trucks are stored and/or loaded with your products, as an example. They're also used instead of or as parking lot lights when conventional, lower to the ground parking lot lighting (see below) doesn't suffice because the lot is so large and requires that additional illumination. We discuss the importance of parking lot safety for your employees here.
Indoor or Outdoor Lighting
Hazardous location lighting is an application for places with unique conditions requiring lighting that can withstand and be safe in specific conditions. Technically, hazardous locations are defined as places where flammable or combustible dust, vapors, metals, gases, etc. are in high enough quantities to pose potential threat. However, hazardous location lighting can sometimes be used as a catch-all phrase to include the following:
High abuse

Vandal-resistant

Public spaces

Harsh environment

Clean room/containment
You can read all of our hazardous location lighting blog posts here. We define the different classes of the lighting as well as discuss their explosion-proof capabilities.
Food and beverage processing and manufacturing facilities may need hazardous location lighting for cold storage so that the lights function well in extreme temperatures; in spaces where lighting must be sanitized, like food production lines; and in industrial "kitchens" where food is cooked before packaging and ovens and other high heat appliances are needed.
Hazardous location lighting specific to this food and beverage industry needs to follow strict NSF and other certifying bodies' regulations for food safety. Read more here about the benefits of LED lights for this important application.
A Note on Germicidal UV-C Lighting for Food Processing
Beyond LED lighting, you may consider germicidal UV-C lights for your food and beverage manufacturing business. These lights kill common pathogens, both food-borne (like Salmonella) and virus-causing (like COVID-19) germs. Read more here about UV lighting for food irradiation and keeping employee illness at bay.
Click here to tell us about your food processing facility's lighting needs!