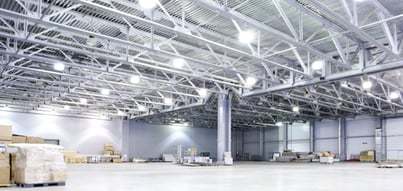 If you've spent any time on our blog lately, you know that we're excited about LED lighting and how it can positively impact different organizations. Three improvements that LEDs can offer to virtually any business or building are the following:
Retrofitting your current lighting with an energy efficient LED solution can save you up to 80% in your annual lighting energy costs. The savings are so significant that you can finance the replacement with the energy cost savings you will realize as a result.
Drastically reduce maintenance costs (both labor and replacement part costs) by utilizing fixtures and lamps that have from four to forty times the useful service life. Eliminate waste disposal issues by transitioning from gas-discharge lamps to LED technology.
Improve overall experience by using high quality products backed by reliable manufacturers. Utilize high color rendering index (CRI) with the appropriate correlated color temperature (CCT) to deliver high quality light levels suited to a range of budget requirements.
But even with the obvious benefits of energy efficient lighting solutions, some may balk at the idea of doing an LED retrofit. Here are three common objections to getting on the LED bandwagon:
LEDs are too expensive. Initially, the upfront costs of doing an LED retrofit might be intimidating or even prohibitive. But this first look fails to factor in the following: maintenance costs are going to drop drastically, replacement costs will drop drastically, energy costs are likely to drop significantly, and the overall lighting quality is going to improve in a big way. Add to these considerations the fact that different types of financing and help are available (like rebates, in-electric rate funding, and performance contracting).
The technology is changing too quickly.

It's true that hardware is consistently getting better. That being said, LEDs have been around for

a long time

and as they currently stand, they look great and perform exceptionally. LED technology is continuing to improve but the longer you wait to upgrade, the more savings you're missing out on by utilizing your sub-standard existing lighting technology. The LED products currently on the market are cutting-edge enough already - they will result in improved performance and increased savings for all but the most specialized of applications.
Are LEDs that much better?

Yes! In fact, LEDs are fast putting other types of bulbs out of business! Read about seven bulbs that are becoming obsolete because of LED technology by clicking on the

ebook

below. The energy savings, reduced maintenance costs, and better performance are pretty compelling reasons to change. But if you're still not convinced, we encourage you to

give us a call

for a free phone consultation.

Stouch Lighting

is different than other LED lighting distributors because of the four-step process we implement to make sure energy efficient lighting solutions are specifically tailored to your project.